SPF® ColorLine® Infill Sheet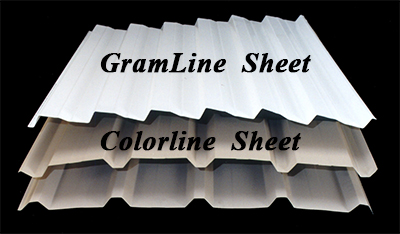 The ColorLine® Infill Sheet is similar looking to many roofing sheets. It has 5 ribs and four flat pans between the ribs. This product style is commonly used in the manufacturer of sheds, garages and roofing. ColorLine® Infill Sheet has been manufactured for over 20 years. GramLine® first entered the fencing market with the ColorLine® Infill Sheet in 1986.
GramLine® rollformers are dedicated to one profile and one gauge to optimise quality control. If you need to match up or repair your existing fence, we still manufacture the original ColorLine® Infill sheet. However, we always recommend that new fencing is made using the GramLine® Infill sheet profile, and that you upgrade the old sheets when finances are available.
Our GramLine® Infill sheets are made from Quality Tested and Certified Prepainted Hi-Tensile ColorSealed® coated steel.
The ColorLine® Infill Sheets are Inkjet branded for full traceability. With our Plain English 10 year Warranty, you can be assured peace of mind.
SPF® ColorLine® Infill Sheet
Sizes
The common heights of fences are 1500mm (5ft) and 1800mm (6ft). We also carry 900mm and 2100mm. For non-standard sizes, refer to the GramLine® sales team.
Standard panel widths are 2370mm from post to post for a 3 infill sheet panel design. A standard 2370mm wide panel consists the following components:
3 x Infill Sheets 820mm wide
2 x Rails 2370mm (horizontal)
2 x Channel Posts / Smartpost (Verticals)
18 x Self Drilling Screws
Material Specifications
Colorline Infill Sheets are made from Quality Tested and Certified Prepainted Hi-Tensile ColorSeal® coated steel.
Double Sided Colour
0.32mm base metal thickness.
Product Specification
Please download our GramLine® Installation Guide.
SPF® ColorLine® Infill Sheet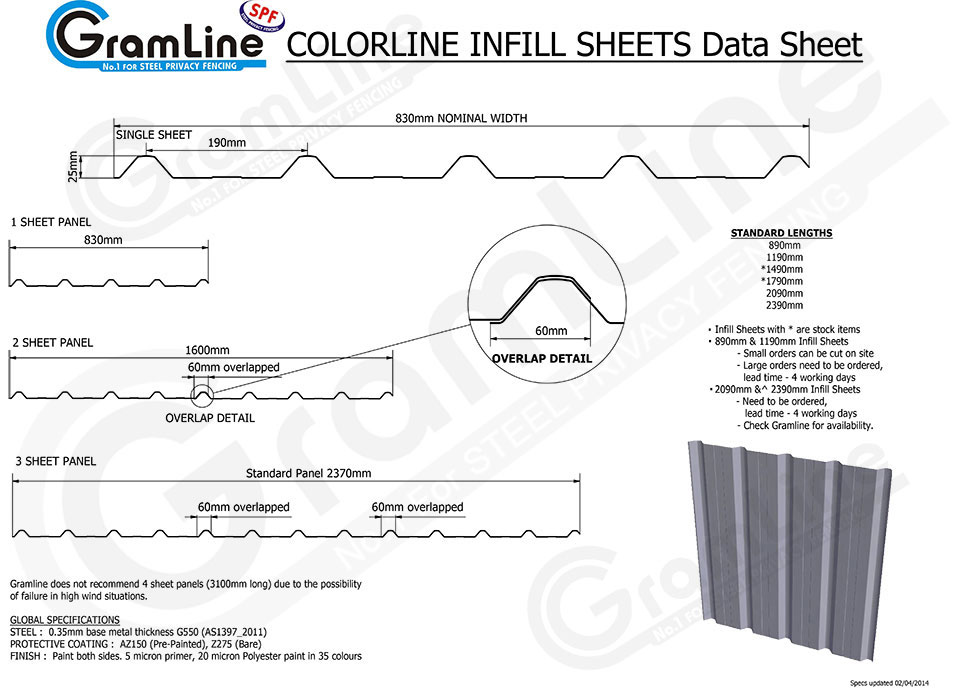 SPF® ColorLine® Infill Sheet
Complete your GramLine® fence with a range of accessories, from the Decorative Aluminium Post Balls, Plastic Double End Caps, a GramLat® 3D Lattice™ Extension, Steel Plinth™ and Single/Double Kit Gates. These additional GramLine® accessories will complement and add value to the appearance of your home and surroundings.
Fencing accessories include
Coloured Plastic Post Caps
Aluminium Post Balls
Coloured GramLat 3D Lattice
Coloured Steel Plinths
Single , Double Kit Gates and Sliding Gates