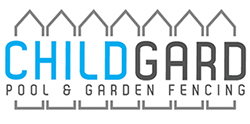 With over 2000 kilometers of lineal sales, ChildGard™ pool and garden fencing, introduced in 1970 will soon be celebrating its 45th a range of styles and a broad range of colours to compliment your home and satisfy your individuality.
Whether you are selecting a new fence to put around your home, or replacing an old one decorative garden, fences are a great way to add a decorative touch to your garden or backyard.
Decorative Garden Fencing can be manufactured to any height or length depending on your requirements. Decorative Garden Fencing is available in a range of different styles to suit your individual preferences and home requirements. You can also order custom-made single and double gates.
They are manufactured in two basic material finishes:
Aluminium / Powder-Coated – provides premium quality, long life, and is recommended for use around salt-water pools, as well as seaside living.
Pre-Galvanised / Powder-Coated is recommended for general Decorative Garden Fencing.
Fence Styles – STANDARD RANGE
Deluxe
(Flat Top)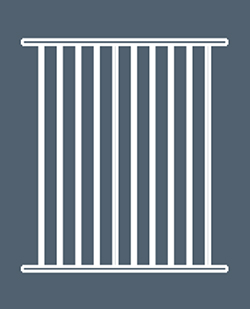 Civic Level
(Picket)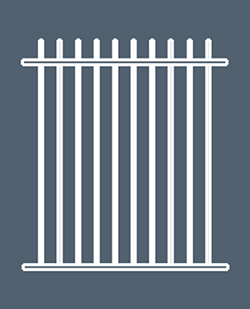 Civic Hi-Lo
(Picket Hi-Lo)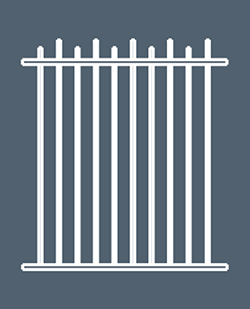 Crown
(Loop)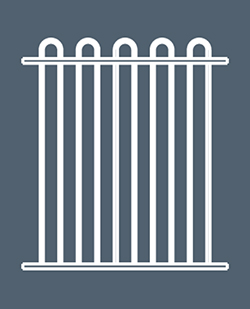 Crest
(Loop & Spear)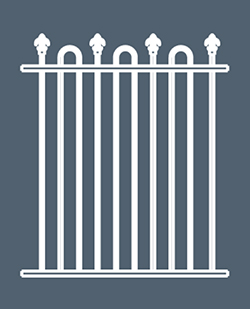 Chevron Level
(Spear)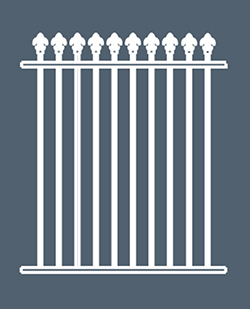 Chevron Level Hi-Lo
(Spear Hi Lo)
Chevron Level Midrail
(Spear Midrail)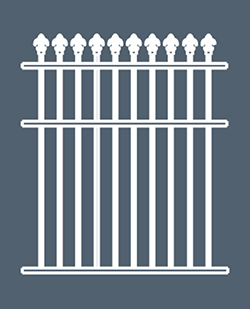 Chevron HiLo Midrail
(Spear HiLo Midrail)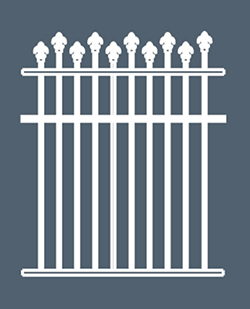 Fence Styles – FLAT TOP DECORATIVE RANGE
Deluxe with Rings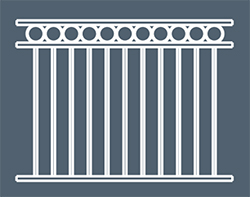 Deluxe with Crosses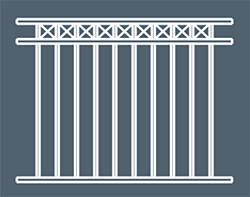 Deluxe with Scrolls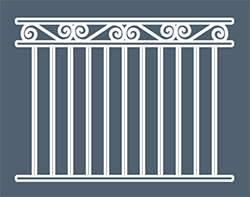 Deluxe with 3 Rings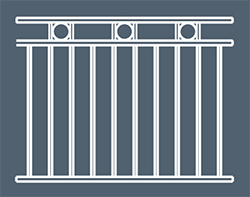 Deluxe with 3 Crosses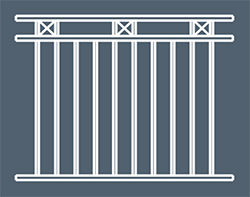 Deluxe with Balcony Rail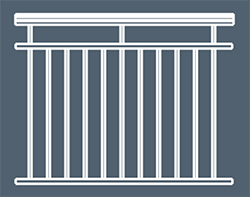 STEEL PICKET FENCING
For a classic addition to your home, the Steel Picket Fence can be a beautiful feature, enhancing the overall appearance of your property.
Picket Fencing is made out of Pre-Galvanised Steel, with an oven baked, powder coated finish that gives you the smooth, silky finish you always wanted. It has the advantages of being low-maintenance & termite resistant. An occasional hose & wipe down with a soft bristle broom is all that is needed to make your fence look brand new.
Steel Picket Fences can be installed between brick or stone piers, or designed as part of a pergola or gazebo. Single, double and sliding gates also can be made to suit your individual preferences and home requirements.
Standard heights are 1200mm, 1500mm and 1800mm. Custom made lengths and heights can be made upon request.
There is a wide range of Fencing Colour's to choose from. You will have the added advantage of matching and complimenting the colour scheme of your home.