SmartSlat®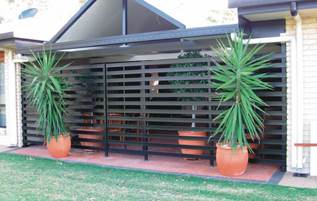 SmartSlat® is a unique two part steel slatting and louvre system. (Patented and Registered Designs granted) it was developed to fill the need for a concealed fixed slat in the fencing and screening market.
SmartSlat® is made from lightweight ColorSealed® pre-painted steel. It has a unique two-part construction where all the fixings are installed in the base and completely concealed when the cover is snapped on.
SmartSlat® gives a long maintenance free life to fences, gates, sunshades, decorative garden features, fixed louvre panels and much more. With the SmartSlat® screening system you can fill in the sides of carports, pergolas or any screening projects that you may require.
SmartSlat® is an outstanding product that has eliminated many of the disadvantages of other metal slatting including:
Visible fasteners and brackets
Channel frames which trap dirt & water
Unsightly welding
SmartSlat® has also overcome the on going maintenance problems of timber via the benefits of high quality ColorSealed® prepainted steel.
Features and Benefits
1.Concealed Fasteners
The back section of the SmartSlat® slat is Tek screwed or riveted direct to your post, and then the front cover is clipped over the base, thus concealing the fasteners.
2.Ease of Installation
SmartSlat® slats are supplied as a "flat pack" for easy transport & cartage, allowing for onsite assembly.
3.Three Sizes Available
80mm, 55mm and 40mm slats provide ease of design to suit different applications.
For more information on the SmartSlat® please click on to the SmartSlat® website
Website : www.smartslat.com.au
SmartSlat®
SmartSlat® Slat Maintenance Guide
SmartSlat® is the smart alternative to timber or other metal slats; used for construction of screens, fences, sunshades, and the like SmartSlat® is easy to install and has a fixing system in which the fasteners are rendered invisible in the final application.
<h2?Installation PrecautionsSmartSlat® slats should not be installed within 1 kilometre of the ocean or other saltwater or marine influence.
SmartSlat® should be kept dry before installation. In the event that water penetrates the packing materials prior to installation the slats should be unwrapped and separated so that water is not trapped between the individual slats. Prolonged periods of wet storage can create corrosive conditions that do not occur in natural weathering.
SmartSlat® should not be fixed with stainless steel fasteners. We recommend fasteners that conform to Table 2.1, Class 3 of Australian Standard 3566.
Any swarf, steel filings, or metal drillings, whilst unlikely to occur, should be swept out of the inner channel after fixing the inner slat to supports.
In Use
SmartSlat® should not be installed where they can be splashed with chlorinated or salty pool water or with other corrosive substances. Avoid contact with weedicides or pesticides, as these may be acidic or corrosive and avoid contact with salty, acidic, or contaminated soil. SmartSlat® should not be fixed with stainless steel fasteners, nor should they come into contact with dissimilar metals such as copper or lead, or water run-off from these metals.
Maintenance
Periodic washing on a regular basisby hosing is recommended. Do not use bore water to wash down the slats.
SmartSlat®