ROOFING
GramLine® manufactures the two most popular styles of roof cladding used on contemporary Australian buildings – ColorLine® and Corrugated roofing. These are the two most requested profiles as they suit almost all residential and commercial building applications.
GramLine® Corrugated
GramLine® Colorline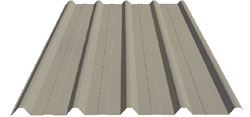 At GramLine® we are committed to an ongoing focus on evolution, refinement, and quality. Our traditional market may be fencing, which we do exceptionally well, but now we are setting our sites on expanding across a broader range of quality sheet steel building products and steel markets. Our initial focus will be on the domestic house-roofing sector.
We may be the new kid on the block in roofing, but at GramLine® we bring our own tradition of product innovation and invention. We invite you to give us a go and experience the GramLine® commitment to service, quality and competitive offerings.
GramLine® roofing sheets are produced from Quality Tested and Certified Prepainted Hi-Tensile ColorSealed® coated steel or Polycarbonate. We also supply transparent Polycarbonate profiles. Their visual appeal and strength make them perfect for most commercial roofing and walling applications. GramLine® roofing sheets offer the benefits of being light weight with high strength and excellent water-carrying capacity.
ROOFING
Material Specifications
Quality Tested and Certified Prepainted Hi-Tensile ColorSealed® coated steel or Polycarbonate.
0.42 Base Metal Thickness
Can be reversed rolled, underside colour in Cyber Grey
Available in Birch, Blue Rock, Gull Grey, Mist Green, Mountain Blue, Off White, Slate Grey and Smooth Cream
Standard Sizes
Steel Roofing
762mm coverage.
Custom cut to length only
Lengths under 1.2m incur a cutting charge fee
Minimum total metreage of 13meters
Polycarbonate
Available in various lengths 1800mm, 2100mm, 2400mm, 2700mm, 3000mm, 3300mm, 3600mm, 3900mm, 4200mm, 4800mm, 5400mm, 6000mm, 7200mm, 8100mm
ROOFING