STEEL FASCIA
Steel Fascia is commonly used on new houses instead of timber fascia board as a base to attach the gutters to, or as a cover to hide the fixing space between the roof, eaves and wall.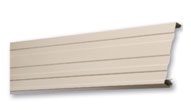 The advantage of Steel Fascia is that it requires minimal maintenance, no painting and is more economical than timber fascia
FASCIA COVER
Fascia Cover is designed to go over your existing fascia boards. The advantage of this system is that it can cover faded and rotting fascia and eliminate the need to maintain and paint your fascia boards.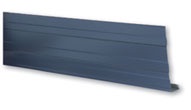 Fascia Cover also exhibits the same profile as Steel Fascia thus it can be used to cover the existing timber boards to match up to an extension or new top storey addition where steel fascia has been used.
STEEL FASCIA
Standard Sizes
Available in various lengths 3m, 5m, 6m, 7m, 8m, 9m, 9.5m
Material Specifications
Made from AluZinc (Aluminium Zinc Alloy Coated Steel)
Available in White, Heritage Red, Smooth Cream, Merino, Jasmin Brown, Slate Grey, Iron Grey, Mist Green, Birch, Mountain Blue, Sandlewood, Off White, Gull Grey, Armour Grey, Caulfield Green, Monolith, Dusk, Ebony, Basal, Coventry, Gulf, Mateal, Territory, Wallaroo
FASCIA COVER
Standard Sizes
Material Specifications
Made from AluZinc (Aluminium Zinc Alloy Coated Steel)
Available in White, Brown, Rivergum, Tuscan Red, Heritage Red, Smooth Cream, Dusk, Off White, Birch, Gull Grey, Armour Grey, Gulf, Manteal, Mist Green, Caulfield
Green, Mountain Blue, Basal, Wallaroo, Monolith, Ebony
STEEL FASCIA